A great thank you to all the people who worked hard, had fun and made the difference last Friday and Saturday in RGI Hackathon marathon!
The contest started regularly with the registration and introduction at 1:30pm on Friday 30th September, held by Vito Rocca, Laura Servato, Elena Pistone, Paola Cappon, Aniello Mautone.
17 teams were there: 16 of them physically in Talent Garden – Milano and one great team also in Medina meeting room in Tunis via remote connection.
At 2pm all the teams there started their struggle creating, brainstorming and putting their hands on their own PC and smarthphones to deliver their own project, at the end of 24hours of coding, wandering around and playing table-football.
On Saturday 1st October, at 2pm the projects were all cosigned to the jury who carefully listened and evaluated the final output, presented by each team in a 10 minutes speech.
[pullquote position="right"]Then the jury had its tough time to shortlist the three finalist teams: all the projects were really brilliant and impressing and it was really hard for the judges to pick the best.[/pullquote] In the end, after about one hour of discussions, the three teams that are going to fight again for Las Vegas on October 21st in Florence during RGI Next-UX Factor flagship event are:
• Vogon Team: Carlo Pellegrini, Andrea Iosio and Alessio Segantin presented their application "DriveTracker" that can detect a car crash and immediately send the data to the Insurer, meanwhile sending and alert to the contact center.
• Ocean's 4: Luca Montagnoli, Joey Guidone, Luca Motto Ros and Benito Mottola presented their application "Brix": this is a multi-device hub that lets you create a dual-mode communication between customer and insurance company. This process can be a modern graphical interface and it offers the possibility to take advantage of the insurance products through the APP associated with them.
• #Fab4Hack: Martina Vellere, Marzia Canetta, Andrea Vocale, Valerio Storch presented their application Alfred, than can allows as listing the objects selected by the user of the app and offers the ability of companies to collect data for profiling the user to offer him adequate insurance coverage.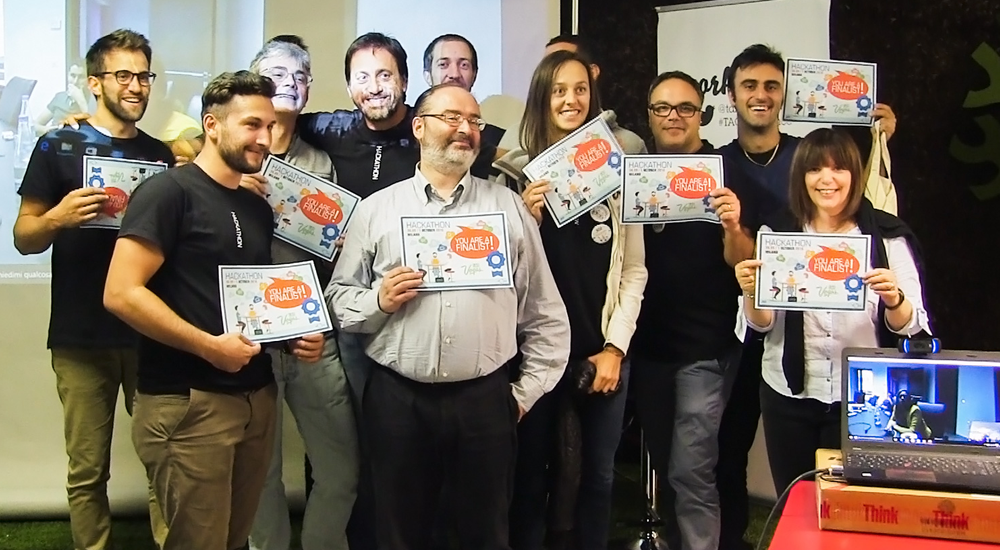 The digital marathon organized and promoted by Rgi can thus be considered a real success, which has seen not only a great participation, but also a lot of enthusiasm of the competitors who competed with friendship and proactive healthy competitive spirit in the 24 hours, emotions that were also shared with the many participants from outside companies.
#HACKATHON2016, a unique experience, to be repeated in the future with all of you: again the success of RGI is to share all together!