The financial crisis is still having an impact on the French life insurance market.
Indeed various elements are playing against a return to steady and continuous growth, including:
the quest for safety

– namely French people are privileging low-risk investments to prepare for their retirement

tax uncertainty

– indeed life insurance has been at the center of discussions in the frame of tax reforms that the French government has been planning since the election of the new majority back in May 2012

the need for simplicity

– French savers want simple products, and they feel that life insurance products may be highly impacted by new tax burden or made more complex in terms of asset exposures.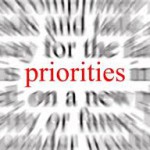 This environment has depressed the French life insurance market in the recent past and particularly in 2012,  where the net premium collection of life insurance decreased by more than €6 billion, while regulated saving products have seen a huge success (an increase of almost €50 billion in net collection).
When asked about growth expectation in the three main domains (Health, Life & Pension, P&C), French insurers respond identifying four main trends.
1. Finding growth in a difficult environment
Almost two-thirds of respondents consider growth the top business priority for the next two to three years, and one-third of them think diversification of their activity, products, and services is the priority one topic. This choice demonstrates that French insurers' most important preoccupation is to acquire new business, and to do this they understand they need to do things differently.
2. Getting more efficient
Process optimization and more generally cost reduction remain priorities, and in particular IT represents a key enabler to achieve these objectives.
3. Innovation as a diversification continuum: French insurers are trying to leverage technology to find new ways to propose their products and services as well as communicate with prospects and customers. Finally, regulation remains on the agenda: French insurers are still working on Solvency II and are now preparing for other regulatory changes that might offer opportunities.
The overall IT spending by French insurers represents €4.8 billion, and Celent projects this IT spend to increase by more than 12% for the overall market by 2018 to reach €5.4 billion.
In particular, the growth in IT spending will mainly be triggered by the life and health insurance sector. Indeed, Life insurers are trying to find alternatives to grow and diversify their activities in a tough market environment. To do this they understand they need to invest in IT, and despite the fact that life insurance premium collection has decreased, French life insurers are starting to spend more on IT in absolute terms.
We can then draw two observations in terms of digital transformation in France.
Digital transformation is a major project driver nowadays

: around one-third of French insurers are working on projects related to digital transformation, and another third are strongly considering them.

Just a low proportion of insurers believe they have already achieved a high level of digitization and in particular only around 15% of respondents believe they have already completed relevant projects leading to a level of digital processes that meet their objectives.
To better understand the main strategic objectives French insurers are pursuing when working on digital transformation, Celent has asked them to prioritize them, and it results that the first priority is given by process industrialization through a higher level of automation (STP), followed by increase sale and service of products online and better leverage analytics to understand customer behavior, improving ecosystem integration, streamlining the communication with customers through the use of portals, and eventually engaging user interface design.
4. Finally, as we observed in 2013, French insurers have embraced mobile technologies with investments in tablets, smartphone applications, and other wandering devices. Mobility seems indeed to be perceived as a crucial customer retention factor as more than three-quarters of French insurers think that mobile technologies support growth and customer retention by speeding up internal processes and improving communications with partners.
Also, French insurers think that enabling mobility for internal processes helps promote diversification activities: 40% of them believe that better integration of partners within their value chain through higher mobility helps them provide diversified services.
All in all, French insurers realized that digital transformation is a never-ending process and the speed at which new technologies appear and impact the financial services industry forces companies to regularly consider their digitization level.